General
Build a Strong IT Management Skill Stack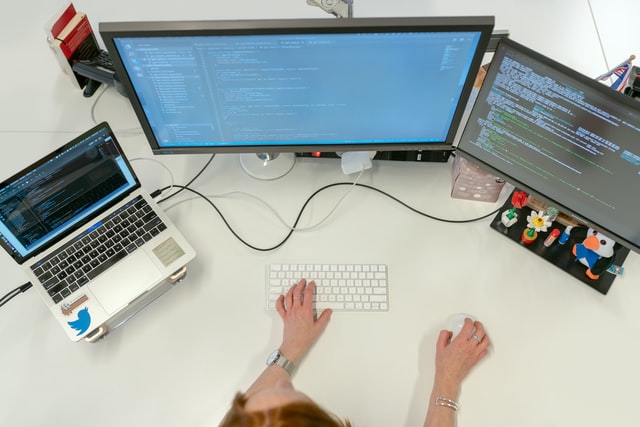 In this article, we will be covering...
How Strong is Your IT Management Stack?
To succeed in IT management, professionals need a combination of technical expertise, strong leadership and communication skills, and a strategic mindset. The breadth and depth of an IT manager's talent stack matters. What education, experiences, skills, and talents do you have to set yourself apart? Can you show adaptability, business acumen, ethical decision-making, and IT problem-solving in your IT Management Stack? Developing and honing these skills will contribute to their effectiveness in managing IT teams, projects, and initiatives.
Let's dig into what your IT Management stack can look like.
IT Management
The role of IT management is vital in overseeing and maintaining an organization's information technology system. They are responsible for administering and closely monitoring the various components to ensure smooth operations and optimal performance. With their expertise, they play a crucial role in keeping the organization technologically efficient and secure. The area encompasses a wide range of components, such as hardware, software, and networks. All these elements need to work together seamlessly.
The world's top-notch IT managers are dedicated to enhancing productivity and efficiency in the workplace, making a notable difference in how people work. Their expertise in information technology enables them to provide valuable solutions and support that optimize workflows, improve communication, and streamline processes. With their guidance, individuals can excel at tasks and achieve greater success within their respective roles.
IT professionals do not need to only look to tech companies for their employment opportunities. Every company in every sector has IT needs. Every day, more organizations are putting IT management at the top of their priorities. In today's rapidly evolving digital landscape, IT departments play a crucial role in managing an array of responsibilities like never before. As technology advances and businesses become increasingly reliant on digital solutions, the importance of IT departments continues to grow, making them invaluable assets for any organization.
What Does an IT Manager Do?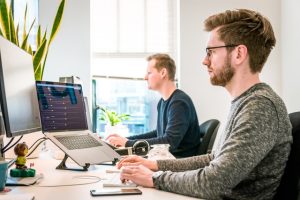 In the IT world, environments are comprised of many crucial elements, including software, hardware, and network components. They work harmoniously to create a seamless infrastructure that enables organizations to operate efficiently and effectively. In today's digital landscape, the IT puzzle is composed of various essential components. These include the ever-evolving mobile technologies, powerful computers, versatile applications, robust servers, reliable routers, and efficient microservices. Each piece plays a crucial role in ensuring smooth operations and maximizing productivity in our tech-driven world.
Organizations have various options for their IT infrastructures. They can choose to store their data in the cloud, keep it on-premises, or opt for a hybrid platform that seamlessly integrates both. This flexibility allows businesses to tailor their infrastructure to meet their unique needs and maximize efficiency.
IT managers govern and monitor an organization's IT systems to ensure they are available and function reliably. An IT manager's responsibilities are many. These professionals determine business requirements for IT systems and manage IT budgets and costs. They may also monitor safety and compliance, control system and network security, and implement new hardware, software, and data systems. These highly skilled professionals are responsible for shaping and executing strategic IT plans within an organization. By meticulously aligning the IT strategies with business goals, they ensure smooth implementation and optimal results. Their expertise ensures that technology is leveraged effectively to drive organizational success.
As IT managers make the transition to CIO roles, they undergo a significant shift in their responsibilities. Moving away from the day-to-day management and maintenance tasks, they take on more strategic activities that drive the organization forward. This evolution enables them to contribute at a higher level and make strategic decisions that have a lasting impact on the business's success. These highly skilled IT managers are instrumental in driving significant digital transformation within organizations. They utilize their expertise to design innovative solutions, tools, and business models that can revolutionize the way businesses operate. Their strategic approach ensures that companies successfully adapt to the ever-changing digital landscape.
What Can I Do with an IT Management Degree?
Professionals currently working in tech and doing something completely unrelated are ready for a change. Workers with analytical abilities should capitalize on their skills and tech-savvy nature. Pursuing a career in information technology management is a solid direction to point your career.
Professionals with baseline knowledge, leadership qualities, and a determination to grow are primed to consider IT management. But what opportunities are available in IT Management? Keep reading to find out. Each of these positions is seeking workers with an IT degree. Many employers require substantial work experience, so they are not considered entry-level.
What does a software applications developer do? Software application developers work as the creative minds behind computer programs. These professionals are responsible for creating and customizing applications software. The work includes developing testing procedures, evaluating software requirements, and modifying existing programs to optimize efficiency and correct errors.
What hard skills do software application developers need to acquire? Software developers possess a solid balance of technical and transferable skills. Developers use programming languages like Python, Java, and JavaScript to design and improve programs. They are adept in communication and collaboration. Software developers troubleshoot and solve issues as they arise.
What does a computer systems analyst do? Computer systems analysts evaluate data processing problems to enhance computer systems and improve system compatibility to share information. These professionals develop and test system design procedures. They consult with management to recommend software solutions.
What hard skills do computer systems analysts need to acquire? Computer systems analysts rely on a solid understanding of information systems and business processes. Project management skills help them efficiently plan and initiate the work their team needs. Reliable communication skills are vital as analysts often bridge the gap between business leaders and technology teams.
What does an information security analyst do? Information security analysts protect their companies from cyber-attacks. These professionals monitor networks for security breaches and investigate matters when one is detected. Their responsibilities include installing and maintaining software that protects sensitive information. They develop and enforce security standards for the company.
What skills do information security analysts need to acquire? Information security analysts must know information systems and network security. They need to perform vulnerability assessments, intrusion detection, and penetration testing. Their skills safeguard their organization's data. Research and writing skills are vital to identify and adequately address security issues.

What does a database administrator do? Database administrators use software to store and organize data. These professionals test and administer computer databases while coordinating changes to correct errors. They are responsible for indicating user access levels for unique database segments. Database administrators apply security measures to safeguard information.
What skills do database administrators need to acquire? Database administrators work closely with Structured Query Language (SQL). The domain-specific language is for managing data. Other critical skills range from Oracle and Python to data warehousing and performance tuning. Complex problem-solving and attention to detail come in handy for these tech pros.
What does a management analyst do? Management analysts generate reports and representations to advise leaders on increasing profitability. These professionals compile information about issues or procedures that need improvement. Management analysts conduct onsite observations and interviews to identify appropriate solutions.
What skills do management analysts need to acquire? Management analysts need a healthy blend of technology know-how and business acumen. Project planning, business analysis, budgeting, and process improvement are all skills analysts possess. Communication skills and problem-solving are vital qualities.
Top MBA in IT Management Career Paths
| Career | Annual Salary |
| --- | --- |
| Chief Information Officer (CIO) | $171,696 |
| Chief Technology Officer (CTO) | $170,518 |
| Director, Computing/Networking/Information Technology (IT Manager) | $150,798 |
| Enterprise Architect, IT | $139,839 |
| Technical Program Manager (TPM) | $129,048 |
| Information Security Manager | $121,931 |
| Product Manager, Software | $102,852 |
| Senior Network Administrator, IT | $83,877 |
| Information Technology (IT) Consultant | $82,471 |
| Business Analyst, IT | $72,013 |
Top Career Paths
How Can I Build My IT Management Stack?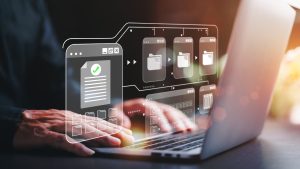 A talent stack refers to the combination of skills, knowledge, and expertise that an individual possesses. It is the unique set of abilities that differentiates them from others and makes them valuable in a particular field or industry. The concept of a talent stack suggests that by acquiring and combining multiple skills, individuals can create a competitive advantage and increase their marketability.
How can you leverage your unique story? What experiences, skills, and education do you have to set you up for success? By stacking different talents together, you can leverage your strengths and stand out in the field of IT.
A talent stack includes both technical and soft skills. Technical skills are specific abilities related to a particular job or industry, such as programming, data analysis, or graphic design. Soft skills, on the other hand, are personal attributes and qualities that enable individuals to work well with others, communicate effectively, solve problems, and adapt to changing circumstances.
The combination of skills in your IT Management talent stack is unique to each individual and can be tailored to their specific career goals and aspirations. By continuously building and refining your IT talent stack, you can enhance your professional growth, increase your value in the job market, and open up new opportunities for advancement.
IT Stack Skills & Talents
IT managers are responsible for overseeing an organization's IT infrastructure. They maintain their IT teams as well. They must understand security fundamentals, IT management frameworks, data storage, hardware, software, and networking to succeed. IT managers learn how these components work together to deliver business value. These professionals must be adept at managing projects, processes, and teams.
To successfully manage IT operations, it is crucial to pay attention to key features that ensure efficiency and effectiveness. This includes overseeing ongoing IT projects and day-to-day operations, ensuring that everything runs smoothly and in line with the organization's objectives. By diligently monitoring these aspects, you can maintain a well-functioning IT infrastructure that supports the overall success of the business.
In this fast-paced and ever-evolving business landscape, it is imperative for managers to embrace technology and use it innovatively. By doing so, they can ensure that their organizations not only keep up with rapid change but also stay ahead of the game. Incorporating cutting-edge technology into various aspects of the business enables managers to streamline processes, improve efficiency, and drive growth. Embracing technology in a forward-thinking manner has become an essential skill for today's managers to thrive in an increasingly competitive market.
Having a strong understanding of IT management software and tools is absolutely essential for any successful IT management stack. With the fast-paced advancements in technology, keeping up to date with the latest tools and software is crucial in order to effectively manage and optimize your IT operations. By investing time in familiarizing yourself with these tools, you'll be able to streamline processes, enhance productivity, and ensure seamless integration within your entire infrastructure.
IT managers are constantly striving to stay at the forefront of technological advancements, and two areas that have particularly captured their attention are data analytics and the cloud. By harnessing the power of data analytics, they can gain valuable insights and make informed decisions to drive business growth. Additionally, utilizing cloud computing allows IT managers to enhance operational efficiency, scalability, and accessibility while reducing costs. Embracing these cutting-edge technologies is not only a wise strategic move but also a crucial step toward achieving success in today's digital landscape. 
It's essential to take a forward-thinking approach and consider the transformative potential of technologies like artificial intelligence (AI) and the Internet of Things (IoT). By embracing these advancements, you can effectively prepare your business for a future that is increasingly driven by innovation and connectivity.
Analytics – Harnessing the power of analytics can be a game-changer for companies seeking to elevate their understanding of customers. By gaining valuable insights, businesses can effectively refine their strategies and make informed decisions that drive success. With this proficiency in place, companies are poised to thrive in a rapidly evolving market.
Cloud computing – Embracing the power of the cloud is a wise move that can greatly enhance your business operations. By leveraging cloud services, you can streamline processes, increase productivity, and significantly reduce infrastructure expenses. Whether it's customer relationship management, data storage, or any other aspect of your business, there are ample benefits to be gained from harnessing the capabilities of the cloud.
Artificial Intelligence – AI systems are revolutionizing the way IT managers deliver service quality. By processing data, learning from it, and predicting potential issues, these intelligent systems assist in ensuring optimal service delivery. With their capabilities, IT managers can stay proactive and address problems before they even arise, resulting in exceptional service quality for their customers.
IT Stack Education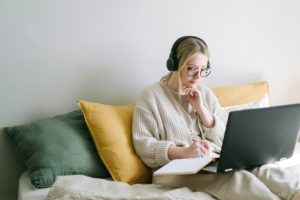 Stacking education begins while considering your undergraduate education. High school students can also leverage their technical knowledge. Video games and internet savvy go a long way for many future IT management students and professionals. Look for an undergraduate program that will give you the tools you need for further quality education and experience.
Online Undergraduate Degree in IT Management
Business IT management undergraduate degree programs emphasize information technology and business management. Many B-schools offer the degree as an online program instructing students on IT-related concepts. Distance learners gain access to programming, networking, and internet security. All organizations highly value these tech skills. The secure and efficient transfer of information has become paramount in the business field.
Business IT management programs teach undergrads to apply their IT skills to increase business productivity. Online students study the principles of business, management, and leadership. Combining these skills opens positions for IT and business management professionals.
Other Technology Undergraduate Degrees
For future IT Managers, there are a wide variety of technology degrees available to pursue at the undergraduate level. Students can pursue computer science, software engineering, computer engineering, data science, and cybersecurity, to name a few.
A computer science program focuses on the theoretical foundations of computing, algorithms, programming languages, software development, and computer hardware.
A software engineering degree focuses on the design, development, and maintenance of software systems. It combines computer science principles with engineering methodologies to teach students how to develop high-quality software.
A computer engineering degree combines aspects of electrical engineering and computer science. It focuses on the design and development of computer hardware and integrated circuits.
A data science degree focuses on the collection, analysis, and interpretation of large data sets. It involves statistical analysis, machine learning, data visualization, and programming skills.
A cybersecurity degree focuses on protecting computer systems, data, and networks from threats. This IT subsection covers topics such as network security, cryptography, ethical hacking, and incident response.
These are just a few examples of undergraduate technology degrees. There are many more specialized programs available, such as web development, game design, network administration, and information systems management. It's important to research different programs, understand their curriculum and career opportunities, and choose a degree that aligns with your interests and career goals.
Online Master's Degree in IT Management
Information technology (IT) management is an interdisciplinary field. It perfectly combines business management, communications, and technical know-how. IT managers oversee the development of technology-based solutions. They help organizations succeed. Tech managers use networks, computer systems, and software programs to disseminate data while ensuring their team's information remains secure.
Information technology and computer science are similar, but they differ in essential ways. Computer science emphasizes computer mechanics. Graduate students in the field learn the theories and algorithms used to create operating systems and programs. IT focuses on solving business issues through technical support, network engineering, and systems analysis.
Graduate students pursuing an online information technology master's degree learn about database systems, information systems management, information security, and network technologies. Besides the technical content, the IT curriculum incorporates business-oriented topics like business intelligence and project management.
Organizations increasingly rely on cybersecurity, cloud computing, and data analytics. The demand for qualified IT managers is expected to remain high. The BLS projects above-average growth for IT managers in the coming years.
An online IT master's program offers flexibility for distance learners who are working professionals. Web-based programs follow the same rigorous course schedule as brick-and-mortar counterparts. This academic approach leads to similar advancement opportunities for online graduates. The online format is ideal for students who tackle additional commitments – such as family or childcare – with work and class schedules.
Top MBA in IT Management Programs
| University | Location | Website |
| --- | --- | --- |
| Cornell University | Ithaca, New York | Website |
| Duke University | Durham, North Carolina | Website |
| George Washington University | Washington, District of Columbia | Website |
| University of California, Los Angeles | Los Angeles, California | Website |
| Carnegie Mellon University | Pittsburgh, Pennsylvania | Website |
| University of Minnesota | Minneapolis, Minnesota | Website |
| New York University | New York, New York | Website |
| University of North Carolina at Chapel Hill | Chapel Hill, North Carolina | Website |
| University of California, Davis | Davis, California | Website |
| Emory University | Atlanta, Georgia | Website |
Top MBA in IT Management Programs
IT Management Books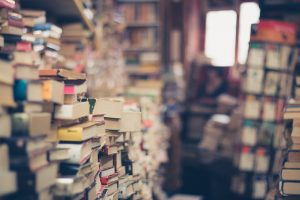 An online master's degree will expose you to countless resources that will fortify your learning. Here are some titles of books that every IT manager should read before, during, and after pursuing their formal education.
Code Complete by Steve McConnell
Even if code isn't part of your job, you probably want to know how it works. This book has 900 pages of quality content. Its pages are flush with everything you need to know about coding. But feel free to read it from cover to cover. It also serves as a handy reference for your bookshelf.
Code Complete is the perfect catalyst for workplace solutions. You should play around with tools with open source (like Prey). Most of the recorded examples are in Java or C++. The old saying goes, "There is no knowledge that is not power."
Quick and Nimble by Adam Bryant
This book's title is "Quick and Nimble: Lessons From the Leading CEOs on How To Create a Culture of Innovation." The resource is full of quotes, experiences, and stories. New York Times writer Adam Bryant compiled these gems.
This is an excellent title for people to read if they want to learn how other people succeeded in business and technology. There are over 200 interviews with CEOs from organizations like Siemens, LinkedIn, and A&E. A quick read of a few pages can inspire anyone starting to work or who wants to learn from the best in business.
Work Rules!: Insights from Inside Google That Will Transform How You Live and Lead by Laszlo Bock
An IT manager's goal is to become an IT leader. What better advice can you get than from Google's Vice Presidents of HR?
Bock shares how there is more to leading a team than being the one pulling the strings. The best leaders see themselves as companions throughout the entire process. Training and team support are best performed as members instead of imposing power. After reading this title, you'll want to gift it to whoever's in charge in your workplace. A couple of things may improve after that.
IT Stack Experiences
Certifications lend credence to any business leader's ability to do things well. Which certifications you'll want to pursue vary depending on the technologies you work with. Methodologies your organization employs are also factors. Working professionals on the management track and those with an eye on an IT management career need to consider an IT management certification. These credentials give you a leg up in the industry.
Some of the top IT management certifications:
AMA Certified Professional in Management
Certified Associate in Project Management (CAPM)
Certified in Governance of Enterprise IT (CGEIT)
The AMA Certified Professional in Management is broader than an IT-specific certification. It is an excellent start for all workers interested in management paths. IT managers need all the technical skills of IT professionals. They also benefit from the soft skills required for effective management. The American Management Association offers the certification. Topics include analytical intelligence, professional effectiveness, business acumen, and relationships.
Information technology managers oversee multiple IT projects during their careers. The Project Management Institute (PMI) offers the CAPM certification. It demonstrates one's performance in managing a product or service lifecycle. The CAPM is an entry-level exam. It's a great way to start if you want to list project management skills on your resume to initiate a future in IT management. Certification requirements include a secondary degree and project management education hours before the exam. Professionals further into their careers with a background in project management will want a higher-level certification like the PMP for their IT management career path.
The ISACA claims that IT managers with a CGEIT certification are the most paid. It cites an average salary of $141,000. This certification shows professionals can deal with any security threats. Certificate holders are well-versed in the requirements for IT governance. Candidates need at least five years' experience in IT management or administration to qualify for the exam. Maintaining certification requires an annual maintenance fee of $45 for members and $85 for non-members.
Build Your Unique IT Management Stack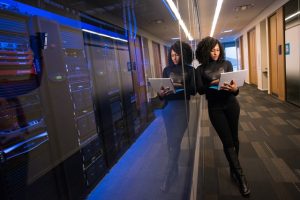 If you are at the starting line of this exciting sector, check out our free online course on IT Management.
If you are further along in your journey, remember to keep building and expanding your IT management stack. The IT management world is as needed as it is exciting. Information technology managers have an excellent chance to shape the future of business leadership and beyond. An online master's degree will give you the keys to the future of this specialized area of business leadership. Stack your experience, education, and skills and prepare for a promising IT management future.
Written by: Tammie Cagle