FAQs
MBA or EMBA: Which Master's Program Should I Choose?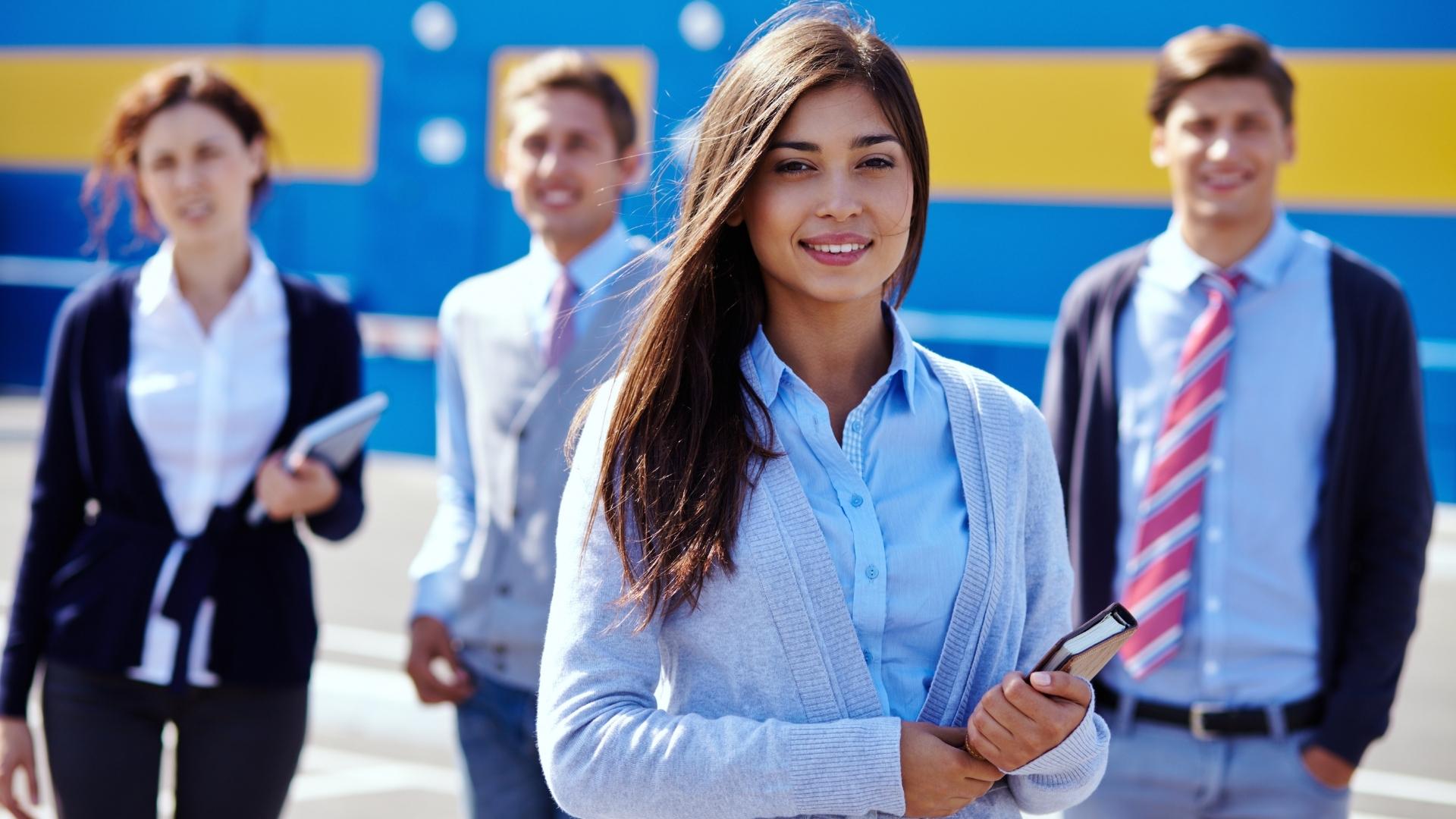 In this article, we will be covering...
The benefits of obtaining a master's degree in Business Administration are numerous. It takes discipline, time commitment, and passion, but the valuable lessons learned in business school strengthens the skills that are necessary for professional and personal success.
The Master of Business Administration (MBA) and Executive Master of Business Administration (EMBA) are two of the most commonly pursued business programs, offered by many business schools worldwide.
What makes the two different? Which is the better choice? How do MBA candidates and EMBA candidates decide on the program to pursue based on their circumstances?
What is MBA?
A post-graduate degree, the MBA is pursued by students who wish to obtain greater competence in the Business Administration field. Traditional full-time MBA programs tend to focus less on the basics of business and more on complex and challenging business matters.
The core courses in MBAs typically include marketing, accounting, finance, operations, and human resources. The coursework is delivered in a variety of formats other than the traditional teaching and learning method. There is a part-time MBA program as well.
MBA is recognized around the world as one of the professional degrees for developing skills in business and management. In fact, the full-time MBA program type continues to be the most popular choice, with 65% of applicants seriously considering it and 40% stating that it is their preferred option.
What is EMBA?
Executive MBA or EMBA programs prepare business leaders to be more effective managers. The ideal EMBA degree candidate has three- to five years of experience in middle or senior management, and is looking to advance in the organization.
Due to the demands of this type of student, EMBA course schedules tend to be flexible. Students usually attend classes on weekends and weeknights.
The programs are designed to work around the schedules of working professionals, so you won't have to spend all your time on-campus. It's not uncommon for EMBA students to meet a few times a month, but it ultimately depends on the EMBA program you choose.
Executive MBA students typically have managerial experience and are 38 years old as the average age, as data reveals in the press release of the Executive MBA Council (EMBAC).
Major Differences Between MBA Vs EMBA
Compared to traditional MBA programs, EMBA programs tend to attract younger applicants whose professional schedules keep them extremely busy.
But there's more to these factors that make one different from the other.
Let's break them down: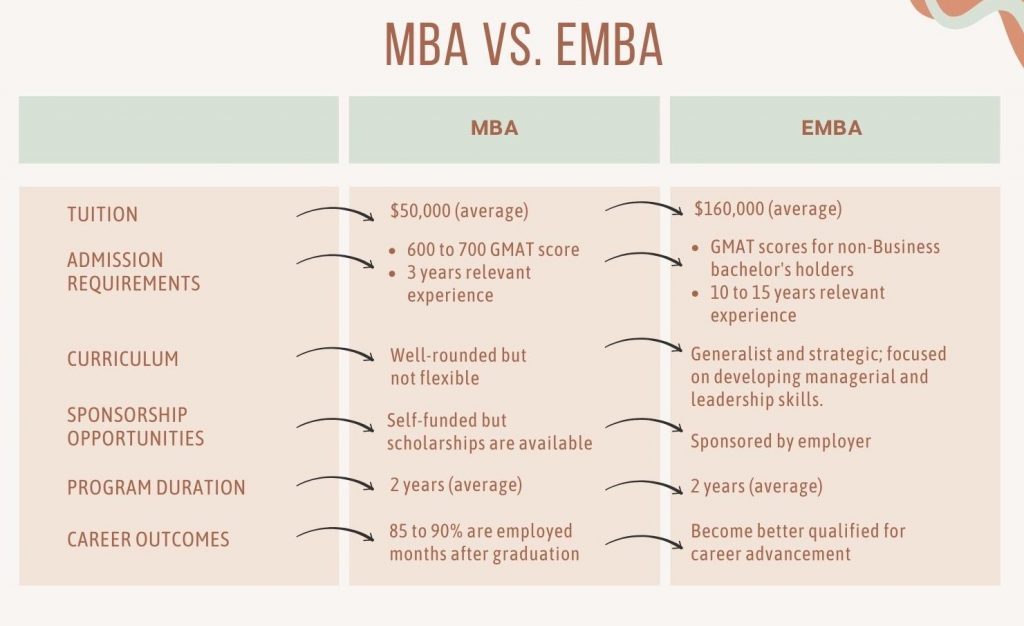 Program Costs
Certain factors are at play in terms of the cost of an MBA, but on average, two-year MBA programs cost more than $60,000. Program tuition and fees can cost up to $100,000 in a top business school.
But because students often see an MBA as an investment in their future, it's hardly a surprise that they spend tens of thousands for it! The MBA is widely known for giving graduates a better earning potential, extensive network resources, and relevant specializations that let them focus on a specific aspect of business administration.
That doesn't mean, however, that MBA students aren't worried about their Return on Investment. Statistics show a four to seven-year ROI period seems to be the average.
Meanwhile, an EMBA program's tuition ranges from $62,000 to $213,000. Costs are usually associated with the business school's reputation.
Executive MBA programs can be quite expensive, but these are deemed worthy of investment by a student's employers (also known as sponsors). In terms of providing a top-notch master's education, EMBA provides a cheaper alternative to conventional MBA programs.
Both MBA and EMBA programs provide access to offer financial aid. Eligible students can also save a great deal on travel and relocation expenses by exploring online programs, particularly if the price tag is an issue.
Admission Requirements
Full-time MBA degree students place a great deal of emphasis on their GMAT scores and essays. Top schools require a GMAT score of 700 or higher. But take note that most schools require a minimum GMAT score of 600. MBA students generally only need three years of work experience, although more management experience is a definite advantage.
EMBAs, on the other hand, are for professionals with at least 10-15 years of work experience. A diverse professional background and varied work experience are sought by EMBA admissions teams during the selection process.
Applicants are expected to have acquired a great deal of business experience over the course of their careers. This is the factor that exempts them from showing their GMAT scores. However, those who didn't finish a bachelor's degree are required to take the GMAT exams.
Difference in Curriculum
MBA and EMBA curricula vary.
Some MBA schools offer a well-rounded, but inflexible curriculum, in which students take the same courses to get an optimal business education. However, you can also find business schools that allow flexible and customized organization for their MBA courses. You can select your specialization and choose elective courses that will fit your academic and professional goals.
In contrast, executive MBA programs are often geared toward helping students develop new leadership skills and mindsets to succeed beyond their current positions. As an executive MBA program aims to prepare graduates for upper management positions, coursework focuses on the development of management skills that can be applied to any industry or company.
Sponsorship Opportunities
Employers traditionally cover the majority or the entire tuition of EMBA students and benefit from their managers' increased professional skills. But in turn, EMBA graduates should be committed to working in their company for a fixed time, depending on their deal with their employer.
EMBA candidates must think about the terms before accepting the enticing offer from their company. In most cases, however, EMBA students continue to earn full compensation at work because they are considered full-time employees while studying EMBA on the side for career development purposes.
As for MBAs, these programs are usually self-funded, but many private companies and schools offer a variety of scholarships for students. EMBA students, for the most part, remain in their current jobs while learning so their ultimate perk is retaining the full amount of salaries. EMBAs are usually online programs, allowing students to continue with their daily work obligations.
A full-time MBA program may sometimes cost less than EMBA overall, but because full-time and traditional MBAs demand a chunk of your time and get in the way of busy schedules, it can be tough for MBA students to keep a job and earn as much as EMBA students.
Duration of Study
The length of MBA programs varies by school, but it's typical for MBA programs to run for 2 years and one year in Europe. The same duration applies for EMBAs too.
The difference is that EMBA studies are part-time, and may be taken anywhere in the world in the evenings or on the weekends, enabling them to work while studying. However, for MBA students, it can be challenging to keep a job outside of an MBA program, especially if you study full time.
Even though EMBA classes are completed more quickly, the courses may be similar to that of MBA programs. And unlike in EMBAs, MBA programs provide students with numerous specializations.
Career Outcomes
The majority of Executive MBA students already have some degree of career success under their belts. An EMBA program will give them the momentum they need to advance once again, if they feel their career has become stagnant recently.
If pursuing an EMBA was not a student's personal decision, it is highly likely that it was an offer they took up from their employer to, ultimately, benefit the company.
A traditional MBA program, on the other hand, can cater to a variety of professional needs at any point in a student's career. Their goal may be to move up the management ladder.
Alternatively, MBA students may be professionals that could have operated in one area or industry for a while and wanted a career change or advancement.
Skills Employers Expect From an MBA Graduate
Students gain skills from an MBA program – and how those skills are applied are central to its value. Thus, employers look for candidates with knowledge of accounting, finance, marketing, and operations skills and the ability to apply them in the real world.
A successful career is not guaranteed by an MBA alone, but by the skills you acquire throughout your MBA program! If you're considering an MBA or are already enrolled in one, get ready to develop the following skills that employers expect you to have as an MBA graduate:
Communication Skills
Communication is the key to success in business. A MBA graduate's communication skills are essential for everything from pitching for business deals to negotiating compensation. Employees with good communication skills are in high demand by companies everywhere.
Leadership Skills
The world runs on influential leaders, from business to politics. Leadership skills are a must for any business and industry. A high degree of teamwork and leadership skills are required when doing work. It is essential that MBA graduates possess leadership skills.
Decision Making Skills
Most jobs require the ability to make decisions. Business people will need to use this skill almost every day of their career lives. There are different ways to classify decisions; some can be trivial while some are very complex. Employers expect you to have great decision-making skills after you finished an MBA. Companies need people who act fast and make wise decisions for their operations.
Critical Thinking
MBA graduates are very much required to have critical thinking after carefully observing the business environment. While instincts work fine, it is critical to exercise critical thinking in order to derive the right analysis in order to advance your business forward. Business owners would want to employ people who have great critical thinking skills.
Core Skills to Acquire in an EMBA
When you enroll in an EMBA program, you'll be attending diverse courses in management decision-making, ethics and social responsibility, and teamwork. While students already have excellent business and managerial skills, EMBA programs will help them perfect and improve these core skills.
The core skills you've acquired will be tested to the limit if you enroll in an EMBA. Developing Power and Influence, a class typically offered in an EMBA, provides students with the opportunity to explore their strengths and weaknesses as leaders.
Within the MBA program, participants continue to assess and build on their core soft skills even after graduation, fostering a culture of lifelong learning and skills acquisition.

How to Decide Between MBA or EMBA
Choosing between an MBA or EMBA can be challenging if you're unsure what to pursue. However, it's best to compare the differences between the two, especially illustrated by the factors above.
Here's a rundown of their basic differences:
There is a fixed schedule for MBA classes, as opposed to EMBA classes, which take place in the evenings and on weekends.
It is easy to combine studying and working for an EMBA program due to the class flexibility.
The elective course options for MBA students are broader than those of EMBA students.
EMBA students do not have electives, so they can finish their degree in the same amount of time as MBA students.
Regardless of what study option you choose, both provide you with unique credibility in the business environment, allowing you to work in a wide variety of fields.
MBAs and Executive MBAs are recognized worldwide, so you won't be limited to your country of origin.
Wrap Up
EMBA and MBA programs may be the answer to your dreams of switching career paths or improving your career prospects in the professional world! Both degrees benefit business executives, but they differ in several ways. For you to make a good decision regarding your master's education, you should consider the tuition costs, your experience level, your career or academic goals.