General
Build a Strong Healthcare Management Skill Stack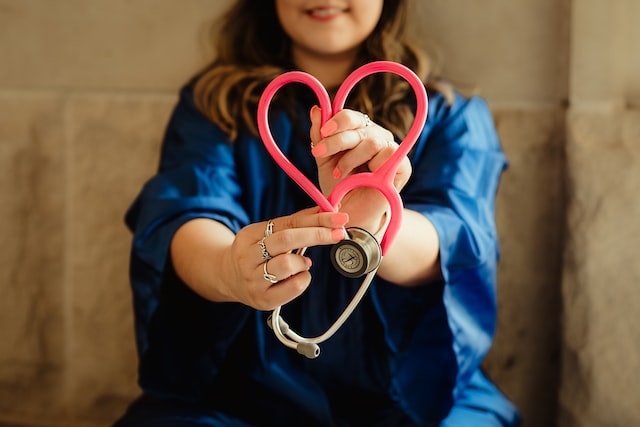 In this article, we will be covering...
How strong is your healthcare management stack?
Healthcare is one of the fastest-growing careers in the United States. There are many reasons to pursue a healthcare management career. But what is the best way to get started? Consider building your talent stack in healthcare management. Creating a professional talent stack means leveraging a broad, unique set of skills, education, experiences, and talents. Instead of leaning on a high level of education and experience alone, you can combine your "talents" and construct a unique competitive advantage.
In an era of constant change and innovation, healthcare management has become increasingly vital in steering the course of the healthcare industry. With the ever-evolving landscape, healthcare leaders must possess a unique blend of business acumen, strategic thinking, and a deep understanding of the healthcare ecosystem. This article explores the multifaceted world of healthcare management. Whether you are a current or future healthcare manager, join us as we unravel the complexities and unveil the keys to a successful healthcare management stack.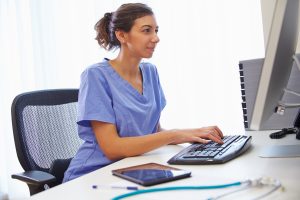 Healthcare Management's Amazing Job Outlook
Is healthcare the direction to point your career? The job outlook for the sector is excellent. Healthcare continues to grow at an impressive rate. Besides the many employment opportunities, healthcare management opens doors for job locations of your choice. Health and medical service manager employment is expected to grow 28 percent from 2021 to 2031. There is an estimated 480,700 available positions, according to the U.S. Bureau of Labor Statistics. As healthcare continues to evolve, the need for talented healthcare leadership will continue to rise.
Healthcare Management's Significant Room for Growth
A career in healthcare management inspires leadership and advancement potential to open doors of opportunity in the workplace. The possibilities for continuous self-improvement in this field are limitless. The education you receive will make a difference in communities and organizations worldwide.
Entry to mid-level management positions in the following areas can be a direct path to upper healthcare management:
Human Resources.
Patient care services.
Nursing Administration.
Government Relations.
Planning and development.
Healthcare management includes the delivery, systems, and people within the business area. The leadership of these sectors occurs outside of large hospitals. New technologies and complex networks have opened the door for many new positions. Medical offices, biotechnology hubs, outpatient centers, practitioner offices, and research labs rely on competent healthcare managers.
Healthcare Takes Professionals in Many Career Directions
Are you hoping for a career with options? There are many exciting directions management can take when compared to other careers. This fact is one excellent reason to consider healthcare management. Graduates of B.S. and M.S. programs in healthcare administration can go on to work in management consulting, state and federal agencies, and pharmaceuticals. Banking, finance, health insurance, long-term care, and professional societies also rely on well-trained managers. Careers in this field are anything but limiting.
What does a Healthcare Manager do?
Healthcare is the most significant employment sector. There will continue to be a high demand for compassionate, innovative, and well-trained healthcare managers. Healthcare managers maintain the administration of healthcare systems. People passionate about medicine and health sometimes lean on the business side of healthcare organizations. These professionals find healthcare management to be a fascinating career path.
Healthcare managers spend every day working within the health sector's intricacies. They work alongside providers and clinicians to oversee organizational functions, including the following:
Administrative personnel training.
Strategic planning.
Budgeting.
Professional development.
Policymaking and agenda-setting.
Top MBA in Healthcare Management Career Paths
| Career | Annual Salary |
| --- | --- |
| Chief Executive Officer (CEO) | $159,080 |
| Chief Nursing Officer (CNO) | $137,310 |
| Director of Surgical Services | $116,532 |
| Chief Operating Officer, Non-Profit Organization | $115,787 |
| Nursing Home Administrator | $95,141 |
| Director of Materials Management, Hospital | $89,101 |
| Program Director, Healthcare | $84,045 |
| Healthcare Consultant | $81,646 |
| Patient Care Manager | $69,480 |
| Health Information Management (HIM) Manager | $61,559 |
Top Career Paths
Where Could I Work as a Healthcare Manager?
Healthcare management is a large-scale term encompassing many types of healthcare administration jobs. Here are some offices you may work within:
Medical office administration (e.g., front desk supervisor, medical office director, practice manager)
Healthcare law and compliance (e.g., regulatory compliance manager, regulator finance reporting manager)
Medical billing and coding (e.g., billing supervisor)
Medical office finance and accounting (e.g., payroll manager, accounting manager)
Medical information management (e.g., information manager)
Healthcare is a business. The business sector needs business leaders at the helm of its institutions. Healthcare managers drive medical organizations toward profit-making healthcare services more equitable, accessible, and efficient.
Many healthcare managers serve in general roles. They may lead in manager roles at rural health clinics. This role would require a fair degree of knowledge about all systems. Some healthcare managers specialize in a field. For example, healthcare managers may work as departmental managers of nurses at radiology labs or administrators overseeing a pharmacy.
There is a place in healthcare management for a myriad of talents and skills. While successful healthcare managers can look very different, there are things about them that hold true across the board. They are collaboration experts, professional developers, and culture influencers.
Healthcare Managers are Collaboration Experts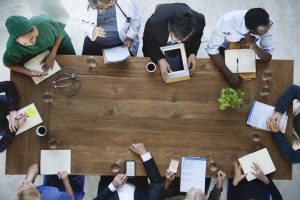 Managers must prepare to navigate competing priorities and demands within an organization.
Often, healthcare managers work with other healthcare administrators, marketing specialists, providers, financial managers, and other players within the healthcare business. They synthesize expert advice from others. A healthcare manager will seek budgetary advice from financial administrators or staffing expertise from department leaders. The professionals will solicit feedback from nurses about workers' experiences.
Healthcare Managers are Professional Developers
The best healthcare managers go further than supervising employees under their watch. They observe and cultivate leadership qualities in their staff while promoting staff to realize their professional potential. Healthcare managers create opportunities for their subordinates. They delegate duties (like data analysis, project management, and record-keeping) to give other healthcare administrators chances to gain new skills and step into advanced roles.
Forward-thinking healthcare managers develop and promote employees from within the organization. The act preserves institutional knowledge and information about how the company works. Promoting from within improves team member morale by championing team member achievements.
Healthcare Managers are Healthcare Culture Influencers
In their influential role at the high level, healthcare managers shape their company's culture from the top down. These professionals may set gender and racial equity as internal priorities so their organizations can take calculated steps toward more significant changes within the industry.
To influence their organization's culture, a healthcare manager might do the following:
Create goals for hiring and retaining people of color from underrepresented groups in healthcare leadership.
Facilitate ongoing cultural competency training for workers.
Hire medical translators so services reach vulnerable groups.
Design outreach programs to educate the public about available services.
Solicit feedback through town hall meetings and surveys to find potential gaps in healthcare service provisions.
The culture can improve when healthcare managers step into their roles as movers and shakers of healthcare organizations. The benefits include greater profits, higher team member retention, and more efficient service.
How can I build my healthcare management stack?
The Skills of Healthcare Managers
Healthcare managers develop a keen set of business skills they use to lead their organizations to success and profitability.
Communication
Healthcare managers depend on quality communication. Professionals in this role must have solid verbal and written communication skills with proven presentation skills. Successful managers practice excellent attention to detail when leading and thriving in a dynamic environment and juggling multiple priorities. Other communication qualities include listening skills, understanding, analyzing, and synthesizing information from other healthcare leaders.
Strategic Planning
Core competencies associated with healthcare management include noticing and responding quickly to healthcare business trends. Managers should be interested in emerging healthcare technologies that affect service quality and efficiency. Strategic planning skills and navigating ethical situations come with the territory. Healthcare managers sharpen their skills of empowering health staff and other administrators to do their best work. Successful managers leverage their compassion to inspire leadership capabilities. They can build relationships and collaborate with community partners and staff members.
Healthcare managers lead organizations according to their defined moral compass. Managers in healthcare make decisions that affect everyone, from other administrators to patients. These professionals need to make ethically informed decisions. Ethical healthcare managers understand the social determinants of health, including nutrition, housing insecurity, racism, and other types of oppression, etc. These business leaders apply an equity lens to decisions while exercising independent judgment and wisdom. Forward-thinking managers have the foresight to anticipate how policy decisions will affect multiple stakeholders. They must value harm reduction principles and trauma-informed care.
Healthcare Leadership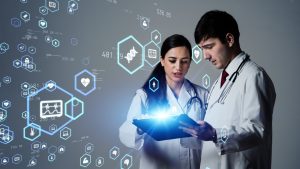 Successful healthcare managers are comfortable being in the driver's seat. They must lead with care recognizing a team's needs and behaviors while helping teams support each other. Managers inspire a shared vision. They lead with trust and credibility by presenting a clear direction for gaining long-term goals. Engaged teams play a huge role in management. These leaders trust in their teams and support collaborative participation. Healthcare managers spend time evaluating information. They source data from experts and process results to develop new plans.
When managers inspire a shared purpose among staff, they embody the values and realign teams with shared values as needed. Their connection services include understanding an organization's internal politics. They adopt outside approaches that can address issues and overcome roadblocks—providing opportunities for teams to develop means of improving long-term capabilities.
Healthcare managers should hold others accountable with clear expectations. They should challenge teams for continuous improvement by nurturing an environment that fosters innovative change. The bottom line is healthcare managers are true leaders. They perform many tasks well, including delegating tasks, analyzing data, communicating with diverse groups, and working well with others.
Healthcare Management Stack Education
Professionals in healthcare management typically have an undergraduate or graduate degree. Undergraduate healthcare management programs focus on entry-level management and strategic communication. Bachelor's degrees for healthcare managers are commonly in finance, business, business administration, economics, or communication.
Individuals with an undergraduate degree supplement their education with courses and experience that reflect their specialization in the healthcare field. Concentration work can include additional coursework in healthcare law and compliance, healthcare leadership, healthcare organization, medical ethics, or business ethics. Internships or work experience at hospitals, care clinics, health industry regulatory organizations, or similar organizations are excellent ways to get specialized experience.
Job candidates in the healthcare industry need to learn about leadership issues healthcare employers and departments deal with. These topics are often outside of what's covered in a four-year degree. Candidates with an advanced degree, like a Master of Health Administration (MHA) or MBA in Healthcare Management, often have training and exposure to best practices, healthcare leadership principles, and healthcare business trends.
Most new healthcare management prospects pair their graduate degree with at least two years of experience in a leadership role at an organization. Healthcare managers understand crucial business concepts and the trends shaping today's healthcare market. Healthcare managers follow the following steps:
Choose a healthcare degree program
Pick a specialization
Acquire certification
Advance their careers
Choose a healthcare degree program
Most students pursue a Bachelor of Science in Healthcare Management program to gain the business skills needed for a management role in healthcare. Some students enroll in an undergraduate program after completing an associate's degree, certificate, or diploma in a healthcare discipline, like medical assisting.
Pick a specialization
Choose a business school that allows you to customize your education to fit your career goals. There are many aspects of healthcare management. Selecting an emphasis that will give you the relevant skills you'll need to meet your future career goals is vital. Top-notch business schools offer healthcare management concentrations in areas like Leadership and Managed Care. Career advisors are available to help students decide which concentration is right for them.
Acquire certification
Industry-recognized certifications can help professionals build their healthcare management stack, differentiate themselves in the workforce, and advance their healthcare management careers. The types of certifications pursued depend on the concentrations. Here are three certifications for healthcare management professionals:
Advancing your career with a master's in healthcare management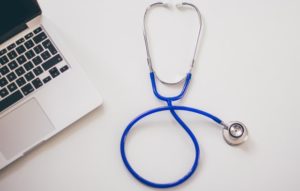 If you want to become a healthcare manager, an MBA in Healthcare Management or MS in Healthcare Administration helps you get there. You will develop knowledge and skills in modern healthcare and trends and tools. You can also bet on gaining the strategic, analytical, and problem-solving skills needed to succeed in a leadership role. An MBA program can help nurses and other healthcare professionals move from clinical practice to management.
Healthcare administration degrees have applications in every healthcare-oriented field. You can work in everything from outpatient care to health insurance.
Look for a business school that makes it easy for healthcare students to advance their degrees and careers. Students with an associate degree in medical assisting can quickly earn a bachelor's in health administration in less than two years. Students in a bachelor's degree program should jump-start an MBA in healthcare management through dual credit options.
Top MBA in Healthcare Management Programs
| University | Location | Website |
| --- | --- | --- |
| Yale University | New Haven, Connecticut | Website |
| University of California, Berkeley | Berkeley, California | Website |
| University of California, Los Angeles | Los Angeles, California | Website |
| Duke University | Durham, North Carolina | Website |
| Johns Hopkins University | Baltimore, Maryland | Website |
| University of Michigan | Ann Arbor, Michigan | Website |
| Rice University | Houston, Texas | Website |
| New York University | New York, New York | Website |
| Carnegie Mellon University | Pittsburgh, Pennsylvania | Website |
| Vanderbilt University | Nashville, Tennessee | Website |
Top MBA in Healthcare Management
Healthcare Management Stack Experiences
Add to your stack in healthcare management by acquiring a certification in the field. These credentials offer excellent training and make you more desirable to employers.
| | |
| --- | --- |
| Certification in Healthcare Compliance (CHC) | This certification demonstrates understanding of compliance regulations. These professionals assist healthcare organizations in understanding and addressing legal obligations. They promote organizational integrity through compliance processes and programs. The Compliance Certification Board (CCB) backs this certification. |
| Certification in Professional in Healthcare Risk Management (CPHRM) | The certificate applies to professionals whose primary responsibilities include controlling, preventing, or reducing loss to a healthcare organization, physicians, patients, and employees. The American Hospital Association's Certification Center (AHA-CC) offers this certification. |
| Certificate of Professional in Healthcare Information and Management Systems (CPHIMS) | The certification demonstrates an international standard of professional competence and understanding of healthcare information and management systems. The certificate is backed by the Healthcare Information and Management Systems Society (HIMSS). |
Healthcare Experience Makes a Difference
Some professionals transition from clinical practice to a healthcare management position. Most managers come from business backgrounds. Business professionals gain experience working in a healthcare setting to thrive in healthcare management.
Ways to gain professional experience in healthcare on the administrative side include the following:
Work in data entry or quality oversight with social service client tracking.
Serve in healthcare policy for government agencies, legislative teams, or healthcare-related nonprofits.
Acquire a position in compliance or financial billing for a healthcare organization.
How to Build Work Experience in Healthcare Management
Healthcare management careers require some experience in healthcare. Experience can come as a paid paraprofessional, like a CNA, or as an intern in administration. Attempting to get hired with only a degree is difficult. Healthcare is a specialized area. Experience is crucial for any job you're attempting to get. Healthcare management positions are no exception. You will have to get an education to be qualified for management roles. You will need to work your way up the leadership ladder. You can get your start in a hospital or clinic's billing department. Some professionals work in administrative roles for a pharmaceutical or medical device company. There are many potential entry points into the business side of healthcare.
Landing your first healthcare position after college is tricky if you don't have work experience. It is essential to take advantage of the experience-building opportunities available to you. Take advantage if your business school offers internships or opportunities to learn from professionals in the field. You can ask questions, gain crucial experience, and learn from mistakes.
Is a career in healthcare management worth it?
A career in healthcare management can be incredibly rewarding and worth pursuing for numerous reasons. Firstly, the healthcare industry plays a crucial role in society, and as a healthcare manager, you have the opportunity to make a positive impact on people's lives by ensuring the delivery of high-quality care.
Furthermore, healthcare management offers a diverse range of career paths and opportunities for advancement. With the ever-growing demand for healthcare services and the complex nature of the industry, there is a constant need for skilled professionals to manage operations, finances, and strategic planning. This translates into a stable and potentially lucrative career with numerous job prospects.
Which State in the U.S. Offers the Highest Healthcare Management Salary?
Graduate students working on a healthcare administration degree are interested in healthcare management salary numbers by state. Here are a few states that offer the highest pay rates for healthcare managers, as recorded by U.S. News and World Report.
District of Columbia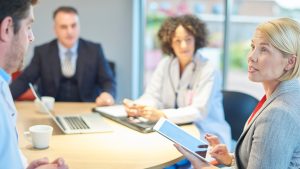 The highest salaries for healthcare administrators are in Washington, DC. Professionals with this position in DC reported making an average of $123,120 per year, or $59.19 per hour. DC is a small area of only 68.3 square miles. The district employs about 1,580 healthcare administrators.
California
The Sunshine State is an excellent place for healthcare administrators. These professionals expect to make an average of $118,040 annually, or $56.75 per hour. Job opportunities abound, with nearly 27,000 healthcare administrators in California. The Los Angeles Metro area has the highest concentration of healthcare management jobs.
New York
New York state comes in just behind California. Healthcare managers in NY make an average annual salary of $118,000, or $57 per hour. Twenty-seven thousand five hundred healthcare administrators are working in the state. Opportunities are plentiful in Nassau, Suffolk, New York City, and White Plains.
Build Your Unique Healthcare Management Stack
It comes as no surprise that the logistics and behind-the-scenes operations of healthcare providers are complicated. There is much to navigate between payment and billing, overseeing multiple facilities and departments while ensuring the quality of healthcare. This area of leadership is where the healthcare manager thrives. These professionals are adept at directing, coordinating, and planning medical and health services. They can manage an entire facility or preside over a single department.
Are you interested in working in the booming healthcare field with a skill set that lies more with business and administrative duties? Healthcare management is the perfect mixture of both worlds.
If you are at the starting line of this exciting career, check out our free online course on Healthcare Management.
If you are further along in your journey, remember to keep building and expanding your healthcare management stack. The healthcare industry is constantly evolving, creating a demand for skilled managers who can navigate the complexities of healthcare delivery, finance, and strategy. With a talent stack that combines business acumen, leadership skills, and a passion for healthcare, individuals can thrive in this dynamic field.
Written by: Tammie Cagle