Resources
10 Failproof Tips For Acing MBA Interview Questions In 2023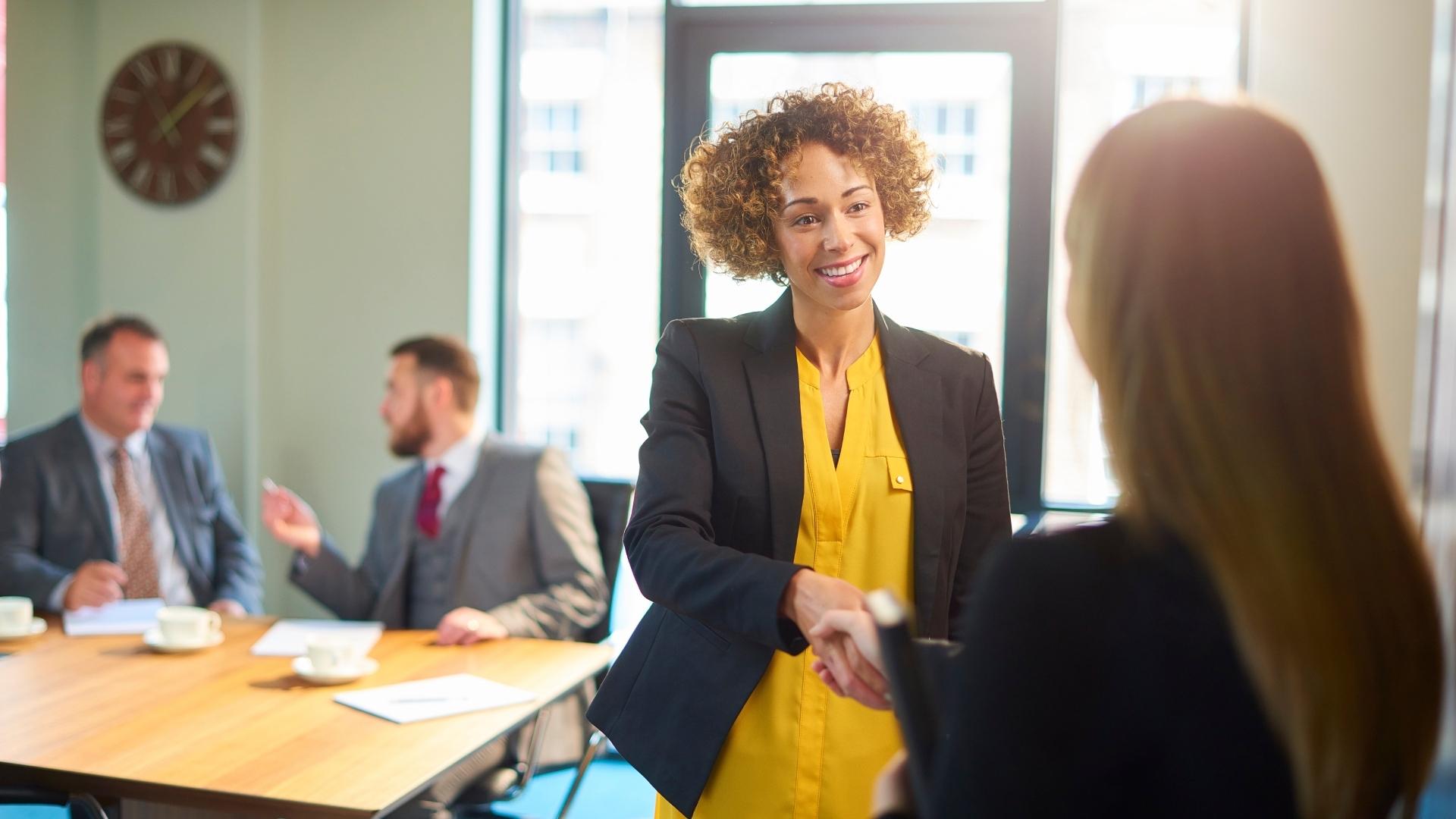 In this article, we will be covering...
Many graduate, business, or MBA schools in the U.S. don't follow the same template for their MBA interview process. While some schools use it as a baseline for screening their applicants, others use it to evaluate capabilities or to gather background information about the applicants.
Regardless, out of the thousands of graduate school applications submitted annually, only a few percent of students will undergo the MBA interview stage. Therefore, an MBA interview invitation is an excellent indicator that someone is a compelling candidate.
If the school offers an interview, applicants should seize the opportunity to showcase their enthusiasm, maturity, and consistency. Acing the school's MBA interview questions also helps them determine whether they will admit or reject one's application.
Importance of MBA Interviews (And Showing Up to Them)
Given the competitiveness and diversity of applicants, an MBA interview invite can be intimidating and require a significant amount of preparation.
Attending an MBA interview is the final step of the MBA admissions process. It is an excellent way for the school's admission committee to explore deeper into the applicant's academic and professional background, evaluate their credentials, and learn more about them.
It doesn't matter if you're enrolling at Harvard Business School, Wharton, or other top schools, all schools in the U.S. require the participation of an MBA interview.
Preparing for MBA Interview Questions
While answering some of the most common MBA questions is the tip of the iceberg, acing the MBA interview as a whole will boost the candidate's chances of getting admitted into their preferred MBA school. Hence, comprehensive preparation is everything.
Here are some of the insider advice to prepare for an MBA interview:
Provide substantial and firm answers to the interviewer's questions, especially with questions such as "Why are you interested in applying to our school's MBA program?"
Avoid using excessive business jargon. The goal is to have the interviewer's impression that the applicant is ideal for the school's objectives and campus life.
Keep it natural. Prepare at least two points about yourself that you want to have a lasting impression on the interviewer.
Although MBA essays or writing samples have already been submitted in the application, never assume that the interviewer has already read them. Instead, be prepared to explain further than what you've written.
Be confident in speaking about your achievements and diverse experiences. Stay consistent, speak in front of the mirror while practicing, and prepare some of your milestones or portfolio.
10 Failproof Tips for Acing MBA Interview Questions
Get to know the school and its MBA program.
While many schools offer MBA programs, not all programs align with one's academic and professional aspirations. Like professional interviews, learning more about the school and its MBA offering is crucial. Participants should research what the school's MBA program can do for them and how it benefits their current careers.
As part of the series of questions, some MBA admissions committees will want to know why candidates chose their school and why the MBA program fits their needs and goals. Aside from the MBA program, candidates can also mention what they like about specific events, school culture, clubs, and networking opportunities that the school offers.
Knowing the chosen school's MBA interview format will also help better prepare candidates. First, it helps evaluate whether the type of program offered is the right choice. Otherwise, they can narrow down their options by identifying the interview process of the MBA program they're applying for.
For example, while some programs conduct in-person interviews, other applicants prefer participating in remote interviews, especially if they are far away from the school's campus. Some MBA schools also have group interviews where one participant answers questions after the other.
Identify key talking points.
MBA interviews are excellent opportunities to market oneself to the MBA admissions committee. Before the actual interview, list all attributes or "selling points". Many interviewers often ask candidates why they are worthy of being admitted into their MBA program. Identify the key points and strengths you want to highlight during the interview and convey them truthfully and concisely.
While candidates have already submitted their statement of purpose, identifying marketable points serves as an in-depth explanation that can sway the interviewer's decisions. Some interviewers may find inconsistencies and areas of concern in students' applications. Be prepared to address them once they ask. Revisit portfolio, resumes, and application essays and identify gaps whenever possible.
Evaluating key talking points helps portray personal stories. By describing stories that best relate to one's strengths and marketable skills, MBA applicants can answer questions confidently and have more compelling answers.
Many graduate schools are particular with strong management or leadership skills. If candidates know they have this potential, they can tell a story highlighting their remarkable leadership skills and integrate them into their interview answers.
When you are confident in who you are, it's easier to market yourself by sharing stories that resonate with your selling point.
Tell a story.
Describing interesting facts and storytelling have a lasting impact on the interviewers. Since telling a story depicts more persuasive attributes, interviewers can effectively respond to a more exciting session than the many cliched responses they've already heard over and over again. Initiate free-flowing conversations by asking open-ended questions.
To craft story-based responses, develop a "story feature" or recall interesting anecdotes that mirror an important personal detail. While some stories deem to be more interesting and timely, it depends on the type of questions being asked. List down potential story features from hobbies or extracurricular activities, personal life, your own business ventures, or past experiences in your school or program as an undergraduate major.
Identify the lessons learned from each anecdote. Rehearse them before the scheduled interview and integrate each anecdote into your answers. If the questions require telling more about yourself, recall significant stories from your undergraduate years and determine the most celebrated milestones. Keep the most essential personal detail and avoid unnecessary sharing of information.
Some questions require demonstrated leadership experience. For instance, MBA applicants can share their previous experiences regarding how they handled differences in their current careers, resolved conflicts, or made significant changes in their current job.
Instead of crafting dry answers, become a compelling storyteller.

Conduct thorough research of the common MBA interview questions.
A surefire way of acing an MBA interview is to practice answering MBA interview questions! During your preparation, list down potential questions that will be asked during the interview. By developing a persuasive answer or story, candidates become more comfortable and confident discussing their responses more conversationally.
Graduate schools ask a variety of MBA questions to determine one's critical thinking and strategic or logical thinking skills. Although some schools present the type of questions they'll ask during the interview, other schools won't.
Researching the type of questions will help candidates develop a strategic plan for answering them. Applicants can also organize their thoughts quickly and improve their answers before participating in the interview.
While many schools have different interview questions, most of the questions are often similar. Being knowledgeable in the type of questions is also one of the best ways to feel more confident in an MBA interview experience.
Prepare answers to some of the most challenging questions, describe your unique goals and business endeavors, and convey your story without overwhelming the interviewers.
Practice instead of memorizing.
Professional interviewers can easily evaluate whether someone is authentic or simply memorizing phrases from their essays. As mentioned, it's helpful to share anecdotes or stories as part of your answers to specific questions.
Since communication skills are essential for passing the MBA interview, becoming a storyteller improves speaking skills. Avoid writing down your answers word for word and simply memorizing them. If you practice reading from scripts, you'll appear as if you're only answering in your interviews for the sake of it.
Focus on having a more conversational and natural tone. Make it a point to convey messages clearly without struggling to find the perfect words. It will help establish a connection with the interviewers and keep them engaged during the interview. If your intentions and goals are clear, your conversations become livelier without even realizing it, and the interviewer can ask the right questions at the right time.
Although the aim is to present details in a more organized way, don't pressure yourself too much. Even though you've answered a different one than what you've trained, the important thing is that you have delivered key messages.
Participate in mock interviews.
Today, many graduate schools offer mock interview preparations, helping MBA applicants improve their interview performance and answer through coaching. Mock interviews simulate real-time interview settings with friends, colleagues, or families as mock interviewers that ask you the questions you'd typically expect from an actual MBA interview.
Participating in mock interviews is also an excellent way to receive feedback and advice regarding presentation and body language. It also helps candidates practice in person so their body language can be improved in a less distracting and more natural appearance.
Listening skills are also improved during mock interviews. Since many interviewees immediately jump ahead and think of the best answers, they often get disoriented by the questions being asked.
Mock interviews sharpen the candidates' listening abilities by allowing them to listen to what is being asked and take their time to prepare their answers and organize their thoughts. It prevents them from giving the interviewers incomplete and irrelevant answers.
Speak to the who's-who in the industry.
Networking is an essential aspect of pursuing an MBA degree. You'll definitely learn a thing or two from someone who already has industry experience and knowledge. The connections you've already established can lead to future career opportunities as well as a wealth of proficiency and expertise.
When preparing for an MBA interview, learning from industry professionals and the school's alumni network can significantly help. These professionals are willing to share questions they've likely encountered during the interview process and help you with tips for answering them.
Since they've gone through the interview process themselves, they can help with mock interviews, set the expectations of a particular school, and insider tips to ace the interview.
Keep calm and stay true to yourself.
The main goal of the MBA interview is to get to know the applicants better, whether or not they are a fit for the school's culture. Be yourself and don't participate in the interview where you'll have to fake it.
Each school seeks potential MBA students who will fit into their academic community based on their professional background, skillset, and personality. Pretending someone you are not is only counterproductive. Interviewers are also skilled in evaluating someone who isn't true to themselves.
Given that you have prepared everything and addressed your weaknesses, be confident and ready to handle anything sent your way. If the school offers an interview invitation, it is because they have seen your potential. Each question has no right or wrong answers. Tackle each question one step at a time and try to enjoy the experience.
Arrive ahead of schedule.
Arriving ahead of schedule at an MBA interview allows candidates to calm down from the journey and organize their thoughts. If necessary, arriving early also allows you to visit the bathroom, drink water, and de-stress to keep you more relaxed and comfortable during the interview session.
Candidates will also have enough time to revisit the questions they've prepared and rehearse the answers to potential questions. Rushing into the interview will only stress the candidate, and eventually may forget everything they have prepared.
How you behave during actual MBA interviews speaks a lot. It offers a glimpse of how you will perform if you are admitted into the MBA program. Running late for the interview may also indicate a poor work ethic and that you'd always be late to your classes if you were to be enrolled by the school.
Some MBA schools conduct orientation regarding what to do or expect before the actual interview process. Arriving exactly on time or late may lead you to miss unofficial announcements as part of the interview process.
Prepare and ask questions.
At the end of the session, the most common MBA interview question includes "Do you have any questions for us" or "Do you have any questions regarding our MBA program?"
While saying "No" is easier, saying "Yes" can definitely boost your application. MBA or graduate schools are interested if you're 100% committed to this venture. They also want to see if you've researched their MBA program thoroughly.
Therefore, preparing and asking the right questions highlights critical thinking capabilities and portrays genuine interest.
Post-Interview Questions
Although you have already researched the school's MBA program and learned their curriculum, you may still have questions about the school that are unanswered. While many wonder about any ethical dilemma involved in asking the admissions panel questions, the general rule is that they welcome questions from interviewees.
So list down any meaningful questions, ask them during mock interviews, or rehearse them until you get to ask the interviewers themselves.
Some of the best post-interview questions to ask include:
• What's a day like for an MBA student in your school?
• Do you offer any study abroad opportunities for MBA students?
• What type of MBA concentrations are offered in your school?
• Are there networking opportunities and events for MBA students?
• Do you have career counseling services as part of the MBA program offer?
Types of MBA Interview Questions
While preparing for the MBA interview itself is crucial, getting to know some of the most common MBA interview questions are equally important. It helps applicants become more confident and provides them with self-awareness, honing their communication skills, and identifying their key selling points.
General Questions
General MBA interview questions help the admissions committee discover the candidate's professional background, personality, and genuine interest.
* What are your long-term and short-term goals?
* What are your strengths and weaknesses?
* What are your objectives in pursuing an MBA?
* Discuss the reasons behind your interest in applying to our school or program.
* Why should you be admitted into our MBA program?
Situational
Situational MBA interview questions provide interviewers with an overview of the applicant's past experiences and competencies.
They are usually structured like these:
* Describe the experience you had when you were a project leader.
* Tell me about a time when you handled conflict in the workplace, how you resolved it, and the lessons learned.
* Discuss your most celebrated milestone.
* How did you handle difficult colleagues?
* Describe the time when you had to make an unpopular crucial decision.
Credentials-Based
Credentials-based MBA interview questions allow interviewers to know more about candidates' professional aspirations, achievements, and how they intend to integrate their credentials into their MBA.
Here's how credentials-based questions are asked:
* Tell me something extraordinary that isn't mentioned in your resume.
* If you could, what changes would you push for in your current workplace?
* How does pursuing an MBA support your career goals?
* Describe something that you are most proud of on your resume.
* As a career shifter, what is the role of an MBA credential for your professional experience or ventures?
Frequently Asked Questions
What is an MBA interview?
MBA interviews are often the last part of the MBA admissions process. The session allows chosen graduate or MBA schools to determine how committed candidates are when pursuing the MBA path. Since these schools want to get to know their candidates better, MBA interviews are a chance for applicants to showcase their motivation and aspirations as well as learn more about the school.
As mentioned, MBA interviews include a variety of resume-centered, general, and behavioral questions for screening applicants.
Are MBA interviews mandatory?
Although not all graduate or business schools consider MBA interviews exclusively to evaluate a pool of candidates, MBA interviews are mandatory requirements to apply to a graduate, business, or MBA school in the U.S.
How long will an MBA interview last?
While many schools have a variety of MBA interview formats, each session often lasts 20 minutes to an hour. Regardless of the duration, applicants must be physically and mentally present and arrive at least 30 minutes before schedule. Rushing into the interview schedule gives an impression that the interview isn't a priority.
Is there an ideal dress code when attending an MBA interview?
Attending MBA interviews require formal business attire. MBA applicants must wear a business suit complemented with a dress skirt, dress pants, or an appropriate dark-colored jacket or blazer. Business casual attires are more fitting than tattered pants, sleeveless shirts or blouses, colored socks, and flashy neck or bow ties. Collared blouses and polo shirts are also go-to attires for attending formal MBA interviews.
Are virtual MBA interviews better than traditional in-person MBA interviews?
While MBA interviews depend on each school, having a virtual MBA or in-person interview format offers almost the same quality. Although some MBA applicants are more comfortable attending remote interviews, all formats don't have significant differences. Many schools have a set of interview questions that applies to both virtual and in-person MBA interviews.
Wrapping Up
MBA interviews form a critical part of an aspiring applicant. Depending on who you ask, it may or may not be as important as a job interview, but it sure is an important step toward reaching your career objective.
As with any type of interview, preparation is key–regardless of the particular program, you are aiming for. Listen closely to the questions and craft solid answers that leave the admissions officers in awe!